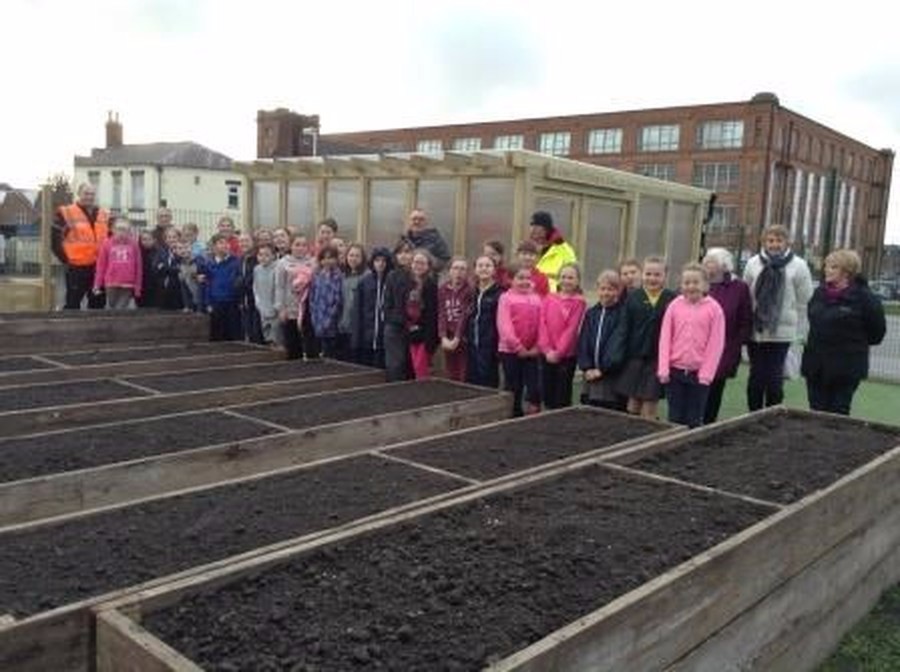 Clearing the Bushes ready for the fabulous new child friendly flower beds that will be our show piece for the North West in Bloom competition...
This proved to be a massive undertaking, that took perseverance and many hours of hard labour with everything Mr Sumner could throw at it! Mr Sumner, along with many of our Gardening Clubs Super Grandads came to help throughout the Easter break. We also got much needed help from friends in the community and our local councillors.
The children, staff and governors cannot thank you enough for your hard work, time and kindness towards our school.
Week 7
Our First Trip
Today we are off over to the allotments next to St Philip's Church. Mr Jordan has very kindly offered to show us around his plot and answer questions
Week 5
Exciting news this week, we have entered the North West In Bloom competition! Lots of work ahead of us and many plants needed…
WE set to work tidying the beds at the front of school, planted bulbs round the base of our fruit trees and the edges of the sports field with Mrs Britain. Pat showed us how to plant garlic in the raised beds, whilst Elle and Frank helped us plant beautiful Clematis around the reflection area.
The cut flower bed has now had bulbs and tubers planted to give Miss Rigby lots of cut flowers to use around school.
Weeks 3 and 4
With our fantastic growing area ready, we have started work on planting. We set our potatoes, planted seed and after filling all KS1s gardening area tubs with soil we had a big clean up.
Mr Sumner cut the grass round the orchard to keep it looking smart.
We learnt how to use a spade and plant fruit trees, a trowel to plant bulbs in the ground and moved into our smart new raised beds to start our vegetable bed. We used a cloche as its still cold out. Our strawberry bed is looking great but not much has started to happen with the fruit bushes...
Amy and Violet discovered that our soil is a heavy clay soil.
Together We Achieved!
We started week 2 with a disaster! On investigation we found the ground next to the potting shed wasn't going to be suitable for our growing beds! After much discussion and head scratching we came up with a plan. The children and Mr Fell measured the area and managed to fit several raised beds in the space available, the plan looked great. Mr Fell and Mr McNulty got on their phones and organized scaffold boards to be delivered from two scaffold companies for free! Mr Fell, Mr Sumner and Mr Lloyd then spent days working very hard building our raised beds ready for the 18 tonnes of soil and 2 tonnes of gravel. A big thank you to them for all their hard work and craftsmanship!
The compost and gravel delivery day went fantastically well thanks to many helpers from both school and the local community! They worked tirelessly in rain, wind and freezing cold, getting all the beds filled with soil and the floor covered in the new gravel. I have
never seen so much soil! Our helpers organised a one way system and after many hours we had full beds and a gravel path making it an area to be very proud of.
We are very lucky to have such amazing outside learning spaces around our school and they are made even more special when we remember so many people contributed their time, energy and knowledge to make things happen! A massive thank you from all the children, staff and governors.