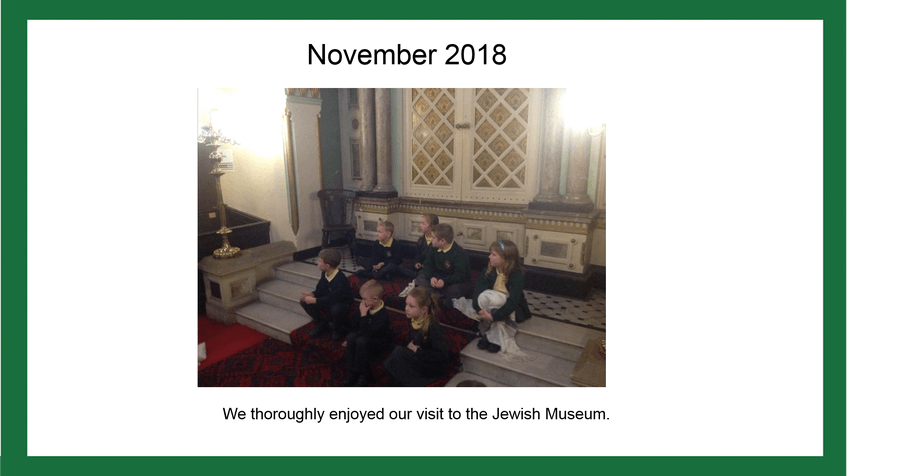 September 2018
Y3G

thoroughly

enjoyed

their

Dinosaur

Workshop!
June 2018
Y3G

really

enjoyed

working

with

Jenny

Meadows

yesterday.
May 2018
We have

thoroughly

enjoyed

preparing

for

and

celebrating

the

forthcoming

Royal

Wedding.
April 2018
Y3G

thoroughly

enjoyed

working

with

'Dogs

Trust'

on

Tuesday.

We

certainly

found

out

lots

of

information,

especially

in

relation

to

what

it

means

to

be

'dog

smart.'
What another fantastic half-term Y3G! As historians you have successfully unraveled the mysteries surrounding the 'Amesbury Archer!' You have successfully analysed different historical sources this half-term to find out why people in the Bronze Age built different monuments. In English, you have composed and performed a range of superb poems based on different landscapes. Finally, as mathematicians, you have all grown in confidence with your use of 'formal written methods' when multiplying and dividing 2-digit numbers by a 1-digit number. Excellent work Y3G!
In Spring Term 2 we now turn our attention back to being geographers and we will be investigating and finding out what the country of Spain is like. What will we discover? There is learning afoot... Have an enjoyable half-term and a well-deserved rest Y3G.
Y3G BLOG (2018-2019)
Autumn Term 2
What another superb half-term Y3G! Excellent, magnificent and superb are just some of the adjectives that describe the quality of work that you have all produced throughout Autumn Term 2. Let's start with geography. As geographers you have successfully investigated and found out why some earthquakes are more powerful than others. I have been very impressed with the confident way in which you have used key geographical terms to explain why New Zealand has experienced so many earthquakes. In English, you have successfully generated different character descriptions - I have thoroughly enjoyed reading your character descriptions about the Grinch! As mathematicians, you have all grown in confidence with your multiplication and division facts. Fantastic work Y3G!
Autumn Term 1
What a fantastic first half-term we have had Y3G. As historians we have successfully investigated and explored whose footprints came first. It was fascinating being archaeologists and finding out about the Stone Age family who left their footprints on the beach on the South-East coast of England. In English, we have successfully generated different performance poems – your poems about Stonehenge were amazing! As mathematicians we have successfully developed our place value knowledge and we are now using the column method to add and subtract 3-digit and 1-digit numbers. Superb work Y3G!