Year 1W
July 2018
| | |
| --- | --- |
| We loved our trip to Cutacre! | |
June 2018
| | |
| --- | --- |
| We have started our fractions topic in Maths. We have been busy exploring how to find half of different shapes using cookies and jelly! | |
May 2018
| | |
| --- | --- |
| | |
| Having fun at Blackpool Zoo! | |
Well done on a great Family Worship.
April 2018
| | |
| --- | --- |
| We have been looking at why Churches are special places. We then explored our own special places at home and in school. | |
| | |
| | |
Welcome to Year 1W
I am Mr Williams and I am delighted to be your class teacher this year. In Y1W we are also lucky to have Mrs Cooney and Miss Thompson, who will be supporting the children this year. We are excited to work with you and your children throughout the coming year.
Homework-Will be given out on Fridays. Reading should be done on a daily basis with the home reading books. Please access Bug Club using the log in at the front of the planner.
Reading books- Will be changed on Thursdays.
PE- Our PE days are Tuesday and Friday. PE kits will be sent home at the end of every half term to be washed.
Spring 2
In Maths we have been applying our fluency, reasoning and problem solving with fractions and time. We even created our own pizzas! Yum Yum! In Geography we have studied Australia and linked this with our Report writing topic in English. We produced Reports on Kangaroos, Koalas and Crested Geckos. As Scientists we have observed plants around school. We have planted a variety of flowers. In RE we have looked at the Easter story and discussed how Easter eggs remind us of the tomb.
Spring 1
As Historians , we studied what it was like to go to schools over a hundred years ago. Above you can see our Victorian themed day. We dressed up and wrote on slates. The boys and girls even had separate lessons. Luckily, no one got hit by the cane. In Maths, we have been applying our problem solving skills with counting in 2s, 5s and 10s. In English, we have been focusing on character feeling and setting description to improve our writing.
Autumn 2
Above you can see our visit to Charlie Park. As Geographers, we studied the local area in Atherton and picked our favorite attractions. We decided to visit Charlie Park and even had a walk down Market Street. In Maths, we have focused on Numbers Bonds up to 10 and have continued to develop our Smart Solvers problem skills. In English, we created our own story called The St Philip's Gingerbread Man. We also had a rainy day at Blackpool Zoo as part of our Science topic on animals.
Well done Year 1. Have a Merry Christmas and see you in 2017 :)
Autumn 1
We have had a busy first half term in Year 1. As Mathematicians we have been looking at Number Bonds to 5, 6 and 7. Above you can see our pictorial representation of Number Bonds to 5 using counters, beads and Numicon pieces. We have also been applying our problem solving skills in our Smart Solvers lessons. In English, we have created our own stories and have been busy learning new sounds in Phonics.
As historians, we have compared our toys to those in the past and as Scientists we have explored how we use our senses. We have also created our own Art display for the Creation Story.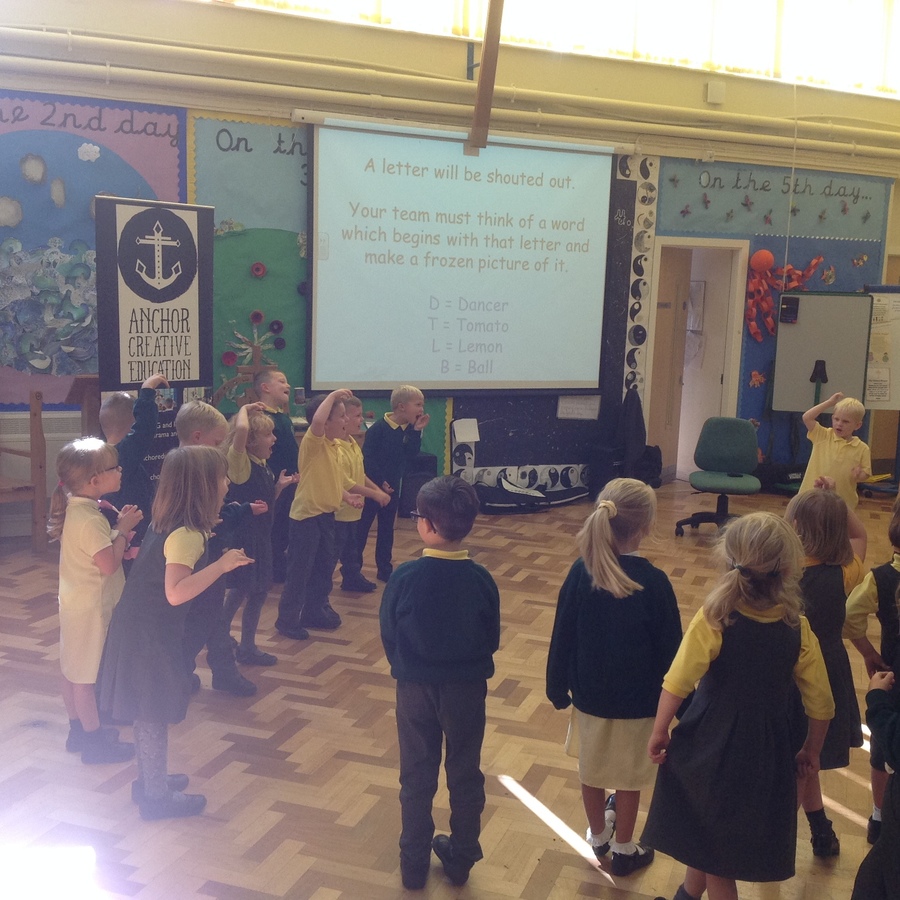 Year 1 2015-16
In Summer 2 we have been Historians. We have compared the adventurers Neil Armstrong and Christopher Columbus. We had a visitor from outer space as you can see below. We even got to shoot aliens using Mr B's Alien target. We have continued to develop our problem solving and reasoning skills in Maths. As Scientists, we have compared the plants in our Year 1 garden to those we would find in different countries around the world.
Well done on a fantastic year and thank you for all the hard work both at home and in school! Have a lovely Summer break.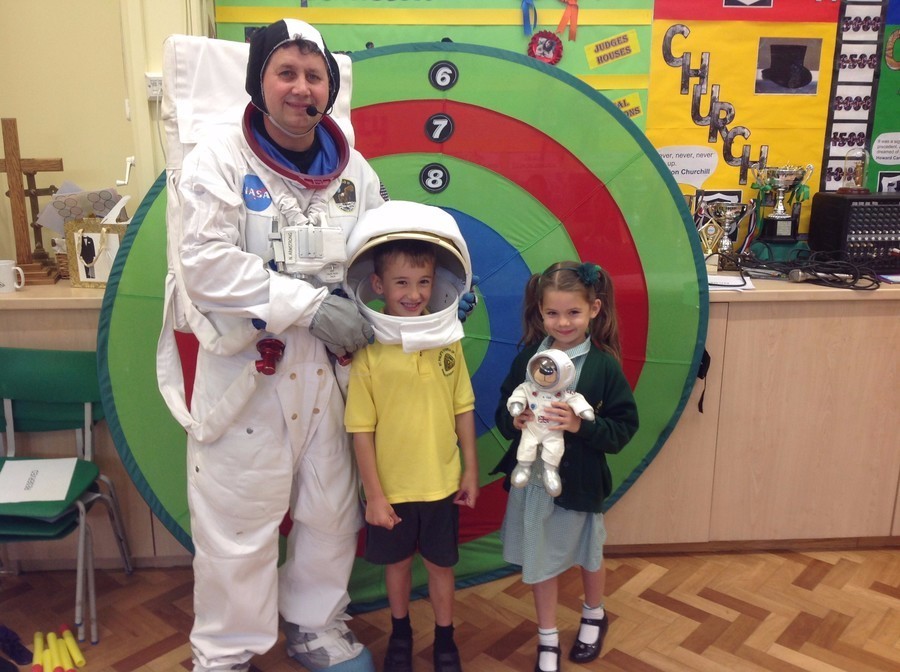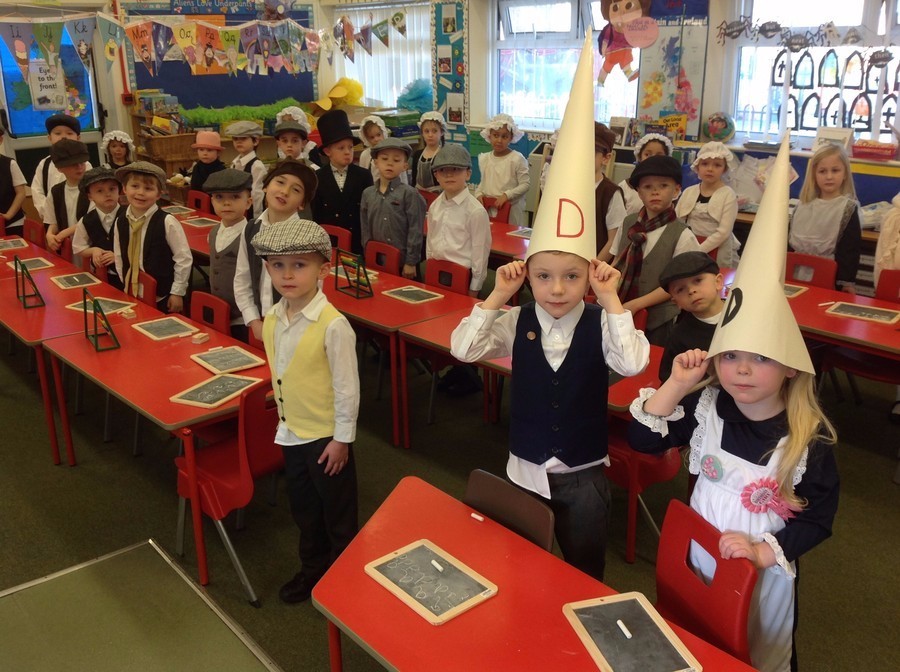 In Summer 1 we have been Geographers. We have studied Australian animals and looked at the popular tourist attractions in Australia. As Mathematicians we have found change using subtraction with Australian dollars. We have also been finding missing numbers. In English we have created our own information pages on Kangaroos. Year 1 also visited Church for our own Year 1 Wedding.
In Spring 2 we have been developing as Mathematicians. We have looked at subtraction by counting back when the numbers are far apart e.g. 17-1 we put 17 in our heads and count back 1. We have also looked at subtraction by finding the difference when the numbers are close together e.g. 17-15 we put 15 in our heads and count onto 17. Number lines were used and we are now working on our mental methods. We have now started to decide which strategy we can use for different problems. In English we have created our own version of Jack and the Beanstalk. As Scientists we have been planting in the outdoor area and studying the change in plants as they grow. As Geographers we have been comparing Atherton to seaside towns such as Blackpool.
In Spring 1 we have been busy counting in 2's, 5's and 10's Maths. As Mathematicians, we have used these skills to explore Multiplication and Division. In English we created our own version of the Fantasy Story Alien's Love Underpants. We have also explored Rhyme in the Gruffalo Story. In Science, we have been looking at the properties of different materials. As Historians, we have been comparing our school life to that of a Victorian child. We even had a Victorian day! We dressed up as Victorian children and followed the strict Victorian rules. Above you can see our Victorian classroom.
Below you can see how some of the children created their own dance to the music workshop from Autumn Term.
Useful Websites for home learning:
Bug Club has now been updated and the site has been renamed activelearningprimary.co.uk
Each child's login will still be the same as on Bug Club. This is an exciting opportunity to read some fantastic interactive books aimed at your child's reading level. We hope you will enjoy this resource, if you need any help please speak to any member of staff and we will be happy to show you.

www.activelearnprimary.co.uk
www.phonicsplay.co.uk
www.lettersandsounds.co.uk
http://www.mrthorne.com/