2015-2016 at St. Philip's
Thursday 14th July
Today, we awarded our inaugural Vicky Harris Award. Vicky was a former pupil of our school; she then went on to dedicate her life to helping children achieve their full potential. Sadly, Vicky passed away and her family have worked together in partnership with our school to develop the Vicky Harris Award. Vicky's family wanted to ensure that her memory lives on through her passion of recognising and helping young children. This award recognises one child each academic year, who has continued to work hard in the face of challenges. Today, we welcomed Vicky's family to school to present the award. Harry Leather was the first ever winner and both Vicky's family and the whole school community agree he is the deserving winner. We are all very proud of you Harry!
Friday 1st July
Today the whole school split into different teams to represent different countries as we took part in our own Olympic Day. The children looked at their countries and then worked together to try to win 1st place. Congratulations go to the following teams:
Team Jamaica (1st Place)

Team USA (2nd Place)

Team Greece (3rd Place)
Thank you for everyone who took part.
Choir Sing at Sacred Heart Primary School- June 2016
Our KS2 Choir spent the morning at Sacred Heart Primary singing as part of a morning workshop. We learnt how to sing in rounds and parts, it was very exciting! The teacher at Sacred Heart said they were like a singing army!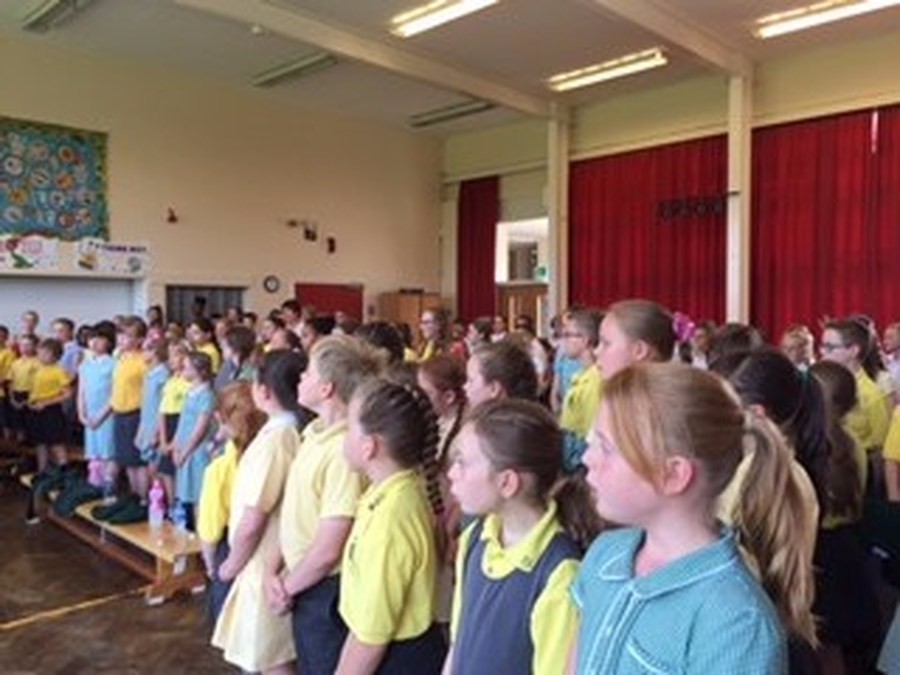 Thursday 26th May 2016
Our new gardens and outside learning spaces had their official opening this afternoon. Leigh Centurions latest signing, fresh from Australia, Josh Drinkwater joined us at school to be interviewed by our Magazine Club. Josh had many pictures taken with the children and signed lots of autographs. The children and their families all had a fun time enjoying the new facilities.
Saturday 30th April 2016
Eco Arts Willow Sculpture Workshop
Today the Parent and Child sculpture has finally been installed into the flower bed across from school. It looks great! A big well done to Eco Arts, Mr Sumner and all who helped make this happen.
Our children have had a fantastic day working with Jeff and Heather the artists commissioned to make the sculpture. We have spent the day learning how to make our own willow sculptures that will soon be installed around the school grounds.
As you can see from the pictures we all had a great day. I can't wait to see our sculptures in place, they are going to look amazing.
A special thank you must go to our amazing Pat. We had cakes galore and all mouth wateringly delicious. We made over one hundred pounds towards our Gardening Club Funds, Thanks Pat your the best. A big thank you to the staff who helped make today possible too :-)
Wednesday 16th March 2016
KSI entered the ATSA Dance Festival, after four weeks hard work our children came home with the first place trophy! We are feeling very proud of them!
YOUNG VOICES 3rd March 2016
Key Stage 2 choir sang as part of a 7,800 children strong choir at Manchester Arena. We had used all our choir practices since September preparing for this awesome event. The choir had an amazing time at the concert and even got to sing with Alexandra Burke!!
Sunday 28th February & Monday 29th February 2016
This weekend the School Council along with Miss Rigby, Mrs Linney, Miss Tyrrell, Miss Reegan and Mr Hancock all visited London. We wanted to explore the role of being an elected official and therefore decided to find out more information in our Capital! We travelled by train on Sunday and decided to do a bit of sight seeing, we went on the London Eye and viewed the whole of London! After this we went to visit 10 Downing Street. On Monday, we went to visit Buckingham Palace. We found out that the Queen was in as the flag was flying. We also visited the Houses of Parliament and had a guided tour. After this our local MP Chris Green came to meet us. We got very busy and asked him some difficult and tricky questions! We would like to take this opportunity to say a big thank you to Chris for making time to see us! Check out some of our pictures below!
Art and Film Week
Every class at St Philip's focused on a different film. We started the week by watching our films and then each class created some fantastic art work, as well as doing creative writing and linking other areas of the curriculum to the films. We then displayed all this work in the hall and invited parents to come and have a look. They were very impressed!!
Week Commencing 8th February 2016
This week the whole school has taken part in the Big Schools' Birdwatch. Mrs Farrow worked very hard to organise a week that the children have really enjoyed. All the classes went out into our school grounds to look for birds within their locality. We got to see some great sights and saw a variety of different birds. Please see some of our pictures below.
Friday 5th February
Over the past two weeks our Reception Class have been celebrating Chinese New Year. Today was the culmination of our celebrations and the children went on a visit to Chinatown in Manchester. We visited The New Emperor restaurant in Chinatown and tasted some lovely Chinese cuisine. We also went on a walk around Chinatown to see all the decorations. Finally we went to Exchange Square to see the giant inflatable dragon. We all had so much fun. Remember there are lots of activities taking place over the weekend so why not go and visit?
Friday 11th December
Today we awarded our first ever Bronze Grammar Grammy badges!! Children from Years 1-6 take a Grammar Grammy test every fortnight, which challenges their knowledge of Spelling, Punctuation and Grammar, they work hard to gain enough points for their badges. 65 points are needed for the Bronze badge, here are the children who were the first ones to achieve this badge!!! Well done everyone!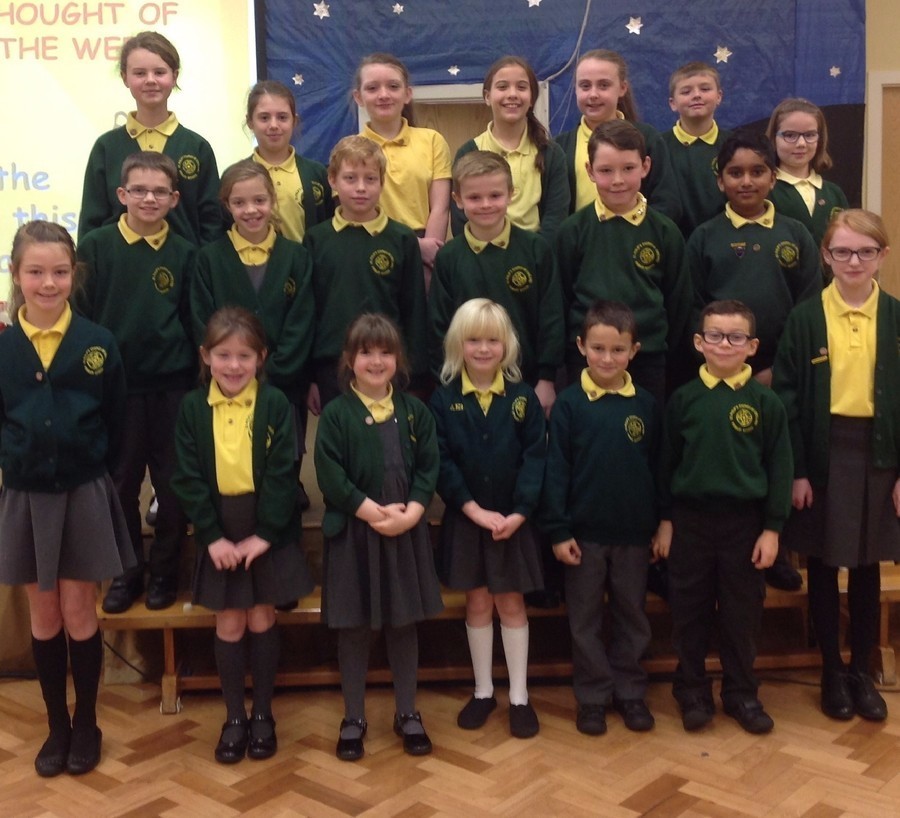 Friday 13th October
Today we have held our very first Kindness day. We have donated food to Atherton & Leigh Foodbank, been over to church and carried out acts of Kindness, visited Central Snacks to say thank you, visited Charlie Park to say thank you and recorded some stories and sent them off to local hospitals for children to listen to. As well as all of the above we have celebrated our own acts of Kindness in class and created cards to thank someone for a time when they have been kind.
Saturday 17th October
Miss Massey and Mr Lysons were joined by lots of St Philip's children, their friends, families and even dogs on our Great St Philip's Autumn Walk up Rivington Pike. There were stunning views, lots of lovely conversation and laughter and an exciting scavenger hunt topped off with beautiful Autumn sunshine. There is to be a Wonderful Winter Walk in the new year so come and join us for some fantastic outdoor fun!
Wednesday 14th October
Today we took a team of our KS2 pupils to the Pelican Centre in Tyldesley. They competed in the Swimming Gala. We tried really hard and out of 11 schools placed first! One of our pupils even broke the breaststroke record! Well done to everyone who took part it was a very enjoyable afternoon.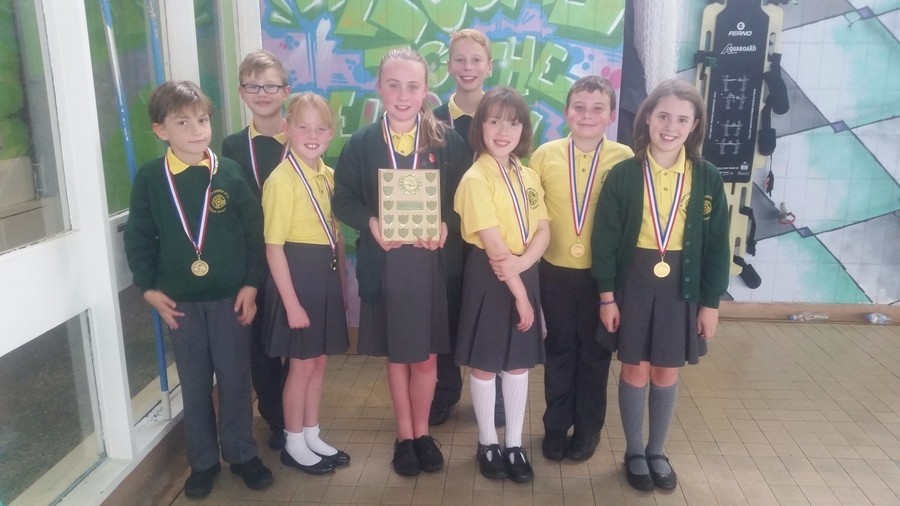 Tuesday 6th October
Today was a very exciting day for science; members of St Philip's science council were elected! All candidates presented convincing mandates - children at our school clearly have a strong passion for the subject.! We now have a very enthusiastic team of ten children on the panel who have already revealed some innovative proposals to create more opportunities for children in our school to be involved in science and technology projects. Could our children be the future space explorers...miracle cure discoverers...quantum physicists?
Thursday 1st October
On Thursday evening the whole school were invited to the Semi Final match of the First Utility Super League. It was a tense match but with the school cheering Wigan on (with Miss Rigby shouting the loudest) Wigan won and managed to get through to the Final which will be played at Old Trafford against Leeds Rhino's. It was made even better by the fact we had the amazing opportunity to walk out on to the pitch and wave the flags of the two teams, luckily Miss Rigby got Wigan's! It was a super night and we had great fun and can't wait for the next sporting event: Man Utd V Liverpool Under 21s at Leigh Sports Village!
Friday 25th September
On Friday we celebrated the Birthday of Roald Dahl. Both the staff and children dressed as their favourite characters and celebrated the day. Each class looked at a different book throughout the week and everyone really enjoyed the day. Why not click the link below to see us celebrate our day as we even made the Leigh Journal.
http://www.leighjournal.co.uk/news/13788678.Youngsters_dress_up_as_book_characters_to_mark_famous_author_s_birthday/
Monday 21st September
On Monday the 21st September we held our very own European Languages day. Each of our classes studied a country, their culture and languages. Below are the countries we looked at:
Reception - United Kingdom
Year 1 - France
Year 2 - Spain
Year 3 - Greece
Year 4 - Germany
Year 5 - Italy
Year 6 - Poland
Year 1 got a visit from the French Ambassador to our twin town Angers. He told them all about Angers and the children loved it! Year 3 also used Skype to speak to a school in Greece and find out all about their country. Some classes even got to try food from their chosen countries and some of our children helped other children learn about countries. The event finished with the whole school coming together and presenting what they had found out throughout the day. See below for some pictures, we hope youy enjoy them as much as we enjoyed the day! We also made the local paper! Why not check out the article using the link below
http://www.leighjournal.co.uk/news/13776481.A_European_extravaganza_at_St_Phillips_Primary_School/
Monday 7th September 2015.
We held School Council, Eco and Team Captain elections on Monday 7th September 2015, each class had nominees which had to sign up to run as a candidate. After this the school went to the polls to elect for the academic year. Below are some pictures of this and keep an eye on our page as the whole school will be going back to the polls to elect the Chair and Vice Chair of the School Council.
Well done to the successful candidates!