Rainbow Flag Award
At St. Philip's we have been successfully selected to take part in the Rainbow Flag Award. The initiative aims to improve the lives of all young people we work with, through a focus to support lesbian, gay, bisexual and trans (LGBT) inclusion. This includes, but is not limited to, improving the lives of LGBT pupils, LGBT Teachers and LGBT parents. The project encourages us to take a positive whole school approach to LGBT inclusion and education, as well as new strategies to combat homophobic, biphobic and transphobic (HBT) bullying.
The initiative is assessed via six different sections each represented by a different colour. These include:
Skilled Teacher

Supportive Governors & Parents

Effective Policies

Inclusive Curriculum

Pastoral Support

Pupil Voice
At St. Philip's we are a full Rainbow Flag Award School achieving 'Outstanding' in three out of six sections.
At St. Philip's we feel that it is our duty to equip our children with the knowledge and skills they will need for life in modern day Britain, which is why we have applied to become a part of the award. We feel it is important to create a safe environment for any of our pupils, staff or families that may identify as LGBT and also provide positive education around LGBT topics.
As a Church of England School we are also working with the Guidance of the Church of England Report 'Valuing All God's Children' which is the churches Guidance for Church of England schools on challenging homophobic, biphobic and transphobic bullying as well as the Equality Act.
We feel that it is important to provide positive LGBT education and implement strategies for HBT Bullying as an organisation named Stonewall conducted surveys around the experiences of LGBT individuals within education within 2017 with some startling facts.
Nearly half (45 per cent) of LGBT pupils - including 64 per cent of trans pupils - are bullied for being LGBT in Britain's schools. This is down from 55 per cent of lesbian, gay and bi pupils who experienced bullying because of their sexual orientation in 2012 and 65 per cent in 2007

Half of LGBT pupils hear homophobic slurs 'frequently' or 'often' at school.

Seven in 10 LGBT pupils report that their school says that homophobic and biphobic bullying is wrong, up from half in 2012 and a quarter in 2007

However, just two in five LGBT pupils report that their schools say that transphobic bullying is wrong

More than four in five trans young people have self-harmed, as have three in five lesbian, gay and bi young people who aren't trans

More than two in five trans young people have attempted to take their own life. as have one in five lesbian, gay and bi students who aren't trans
Support Services
If you would like further information or support, please click on the images below for links to support services. Alternatively, if you would like to come into school to speak to someone, Mr Hancock should be your initial contact in Early Years, Mrs Barnes in KS1 or Miss Massey in KS2. If you would like any further information you can also see our Rainbow Garden at the front of school which includes, QR codes, Web addresses and Phone Numbers for different organisations.
| | |
| --- | --- |
| We are working in partnership with The Proud Trust, if you would like to explore their services please click the link below | Alternatively if you are looking for Youth Support. Wigan Local Authority has a Youth Support group called BYOU. You can follow the link below for further details and contact information. |
Individuality River
To begin our Journey towards the Rainbow Flag Award, the whole school took part in our river project. Each class looked at what it means to be happy with yourself and how each of us in a unique individual and how each one of us likes different things, taking into account the protected characteristics from the Equality Act 2010. From this every child and staff member designed their own pebble to add to the river. Take a look below to see our River of Individuality.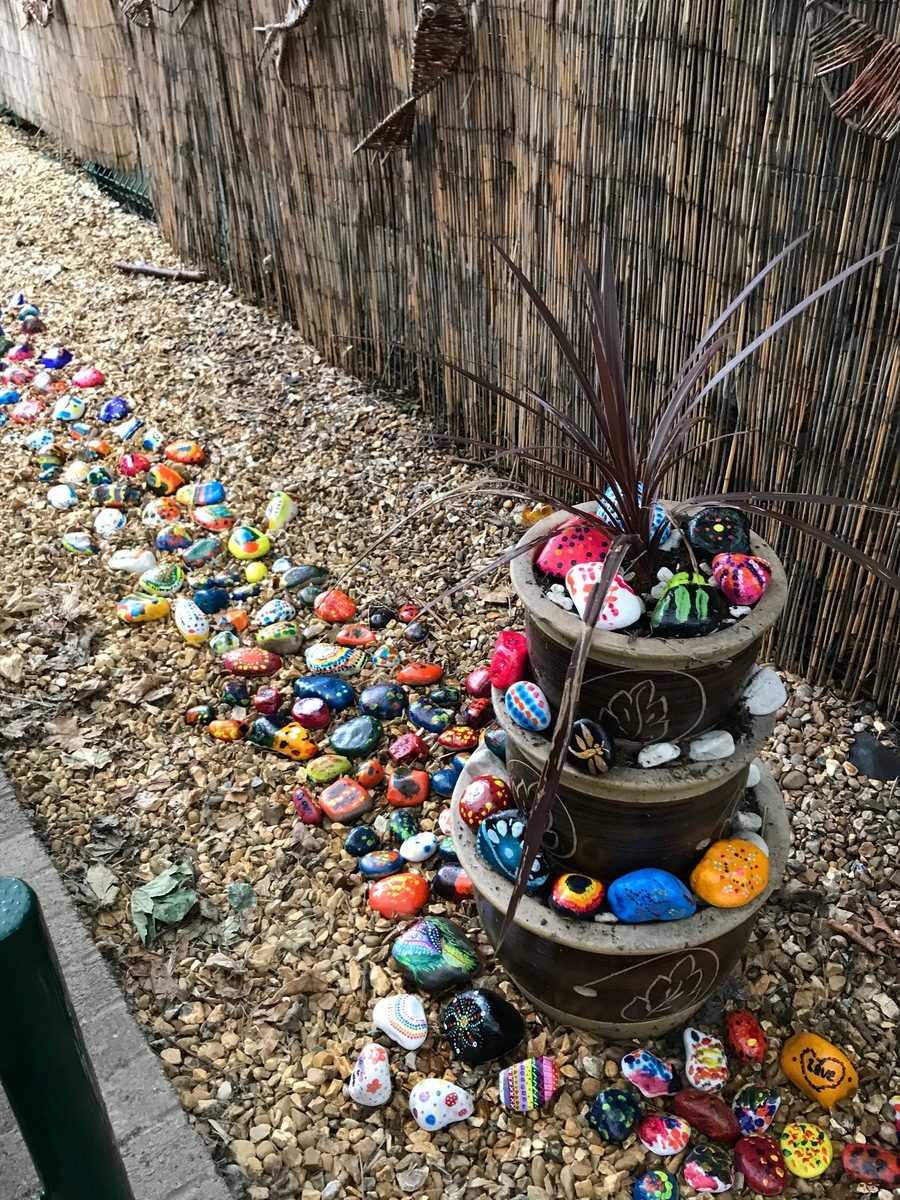 Rainbow Garden
Our Gardening Club worked really hard with Mrs Farrow to explore the different communities and people that make up LGBT+ groups and straight allies. After they had done this they designed a garden and worked hard to build it. The design was a love heart to show our school community. This incorporated the Rainbow Flag for people who identified as LGBT and also included straight allies and anyone who is questioning. They put this into place to ensure that everyone feels welcome within our community. To further help our community the children wanted to include a way to help them access support services in a way that was appropriate for everyone to access. They decided that not everyone may want to come into school to access support services so they added websites, phone numbers and QR codes to the Garden so that anyone who needs further support advice can access safe resources and organisations at their own leisure.
We are very proud of how sensible and thoughtfully the children have tackled this design and made sure that St. Philip's is a safe and supportive environment for all.
Glossary of LGBT+ Terminology